Enjoy two sources.
Aso · Uchinomaki Onsen which is also one of the leading spa town in Japan.It is famous also that there are many hot spring facilities to enjoy fresh hot water.
It is one of the major features of the hotel that you can enjoy two different kinds of careful selection among such Aso · Uchinomaki Onsen.
The temperature of the Aso of the earth, please come to pleasure the natural grace of Aso
Open Air Bath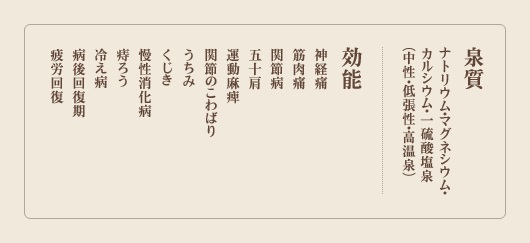 I feel the change of the season in an outdoor bath …
You can enjoy two spring fountains in the outdoor bath which continues from the inner bath.A small hot tub filled with a little warm water containing a lot of iron.Spacious bathtub full of alkaline simple springs.Both can be enjoyed by sipping from the source.While feeling the wind of the season, while looking at the night sky.Please enjoy the bathing that you can only enjoy at that time with the outdoor Irifune bath.
Inner bath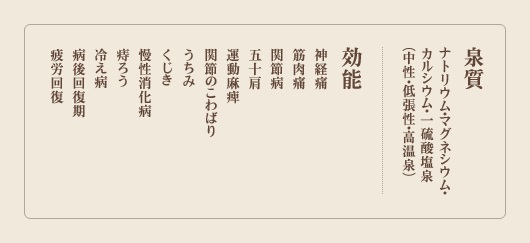 Hot water adjustment is your choice.
The inner bath bath is divided into two layers, the top is hot and the bottom is warming hot water a little.When sitting in a bathtub made of rocks that emit far-infrared rays, just the feet can be soaked in hot water and promote blood circulation.You can quickly get in a hot bath.You can relax and take a hot bath.A high ceiling made by imagining an old-fashioned "yuya", a thick beam … Please enjoy fresh water with "Nostalgia" that makes you feel somehow.
5 private baths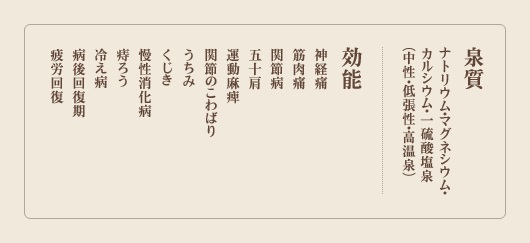 Relaxing with family and important people
There are five private baths for Irifune.All the baths are filled with fresh hot water and you can enjoy the bathing as much as you like during your stay (guests can take a bath for 24 hours a day, free of charge any number of times).Relax and enjoy bathing without worrying about people's eyes.Dressing stations, etc. are a bit small, but I would be pleased if you can enjoy the difference in spring quality with different bathtubs.
※Charged hot water is not a reservation system.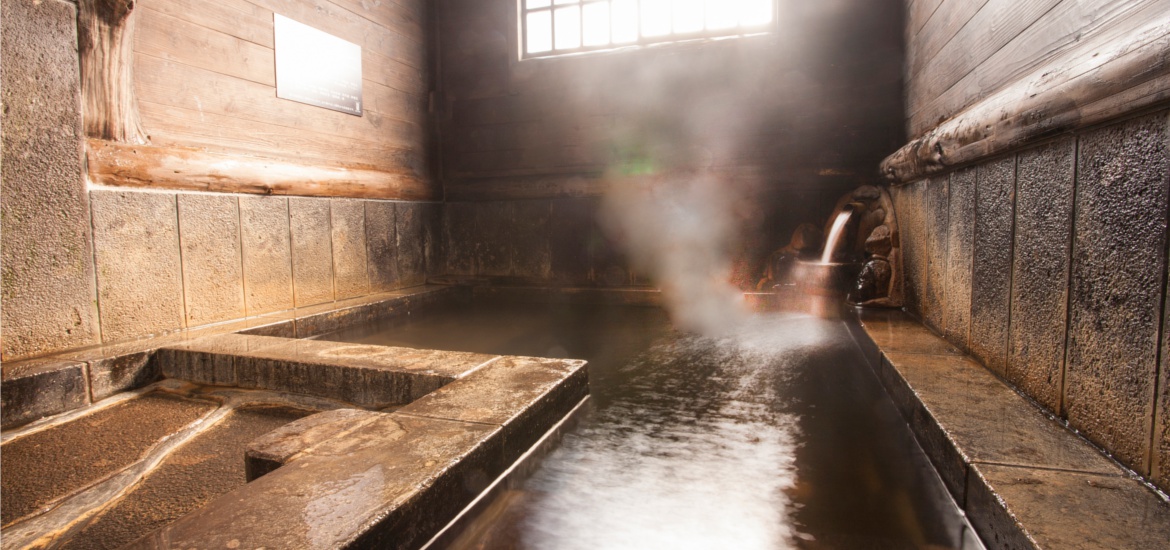 Different spring quality

Private Bath, Kazan-Seki
Only one of the five charter hot springs "Kazangan-no-yu rocky Kazangan-no-yu" is Kazangan-no-yu ice spring, which is different from other baths and spring quality.It is slightly bluish, featuring soft, hot water that is faintly hilly.Please enjoy special hot water only available here with Kazan-Seki.
One-day hot springs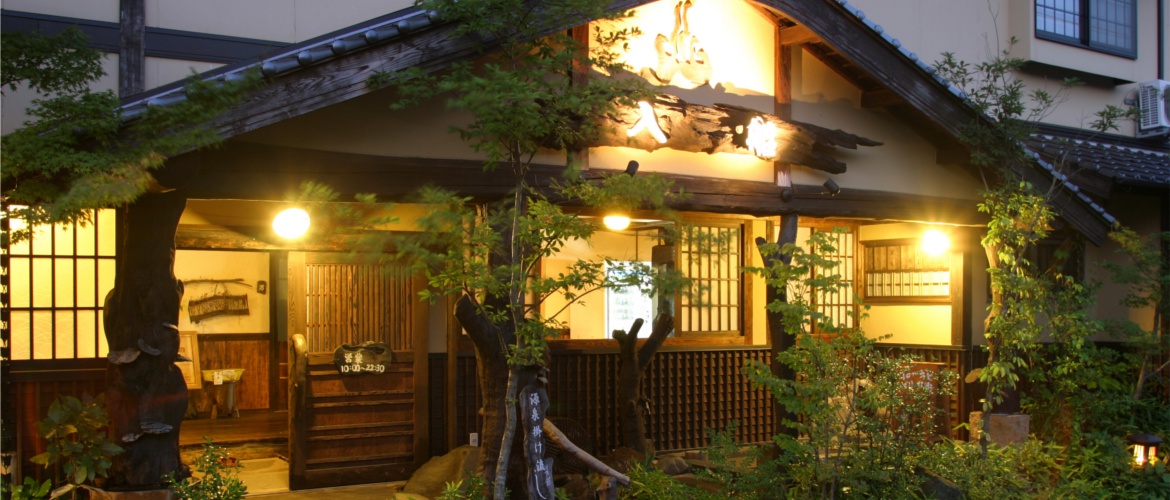 【Large Communal Bath】
Adult (from middle school student) ¥ 500
Child (elementary school student from 3 years old) ¥ 200
【Family hot water(Private Bath)】
Natural rock hot water:¥ 1,200
Ouja-no-yu:¥ 1,400
Hakuchou-no-yu:¥ 1,400
Tama Chan-no-yu:¥ 1,600
Kazan-Seki no yu:¥ 1,600
※Opening Hour(all rooms):50 minutes
【Opening Hours】
13:00 to 21:00(End of reception at 20 o'clock)
Closed: Undefined holiday (The schedule for the holiday will be announced on the homepage)
※Charged hot water is not a reservation system.