We will make one dish all the mind full of satisfactory cuisine.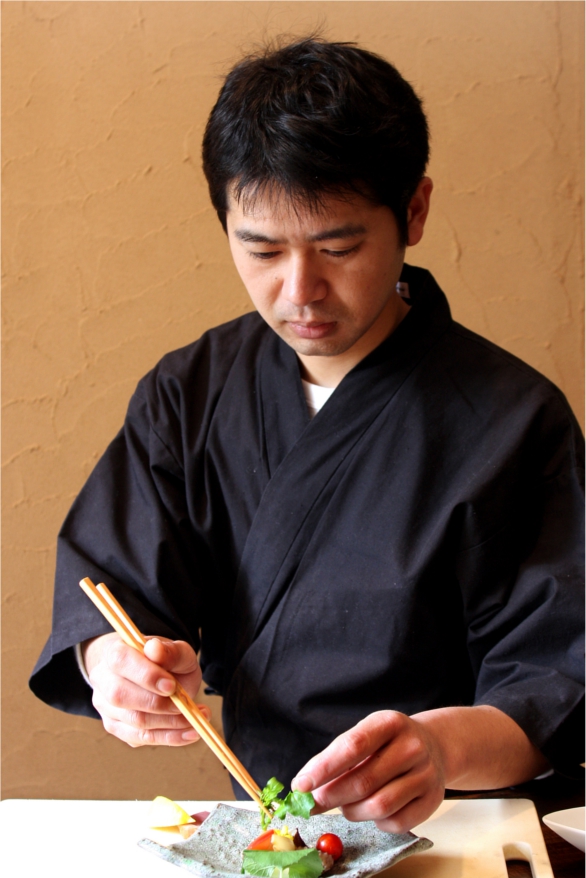 I pledge that I will not cut into a dish for each dish.
I want to give "excitement" rather than just "satisfaction".I think that way so I can cook every day.
"Dinner" can be said to be the biggest mountain of travel.I hope to make dishes that will remain in your memory.
Self-grown vegetable garden and carefully selected materials
Regarding foodstuffs, we are using vegetables raised at our own vegetable garden and rice made from the parents' home of service managers, as much as possible, using ingredients stuck with homemade products.
Regarding Higo cattle and horse sashimi etc, our owner chef tastes it and we are offering it only for those I thought as "delicious".
Enjoy the passion for "food" that is possible only because it is a small inn in all 7 rooms.
menu(One case)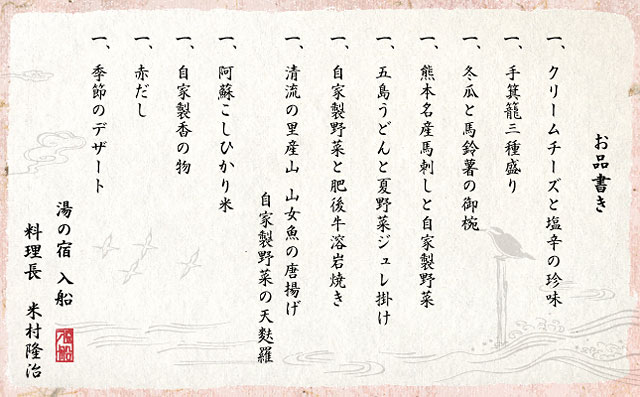 ※An example of dinner of a Irifune Monogatari (it may be changed by season and purchase)
Popular dish plan
【With meat increment & rice ballon bento】Special Gourmet Plan
---
It is the most luxurious Kaiseki cuisine in the hotel.
Compared with regular cooking course, the amount of the main Higo cow doubles, and "Horsemen sashimi" becomes "Special selection frosted horse sashimi".
Chopsticks are moving though the stomach is full ….I will deliver such experiences.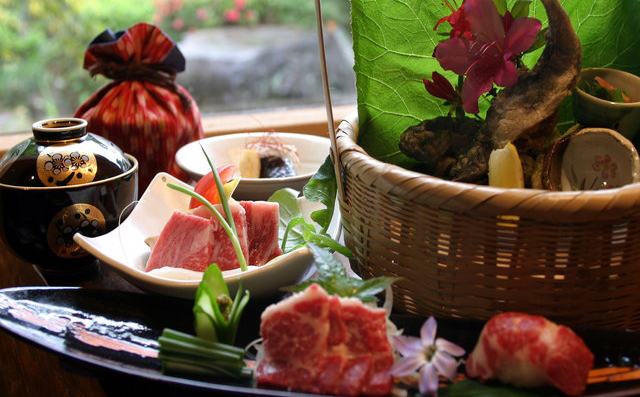 【Yumouri & Gourmet】Irifune Monogatari
---
It is our standard cooking course.
Homemade vegetables and rice, and Kumamoto specialty horse sashimi and Higo cow can be enjoyed.
Please enjoy "delicious art", chief chefs handling all 10 items, from preparation of all dishes to serving.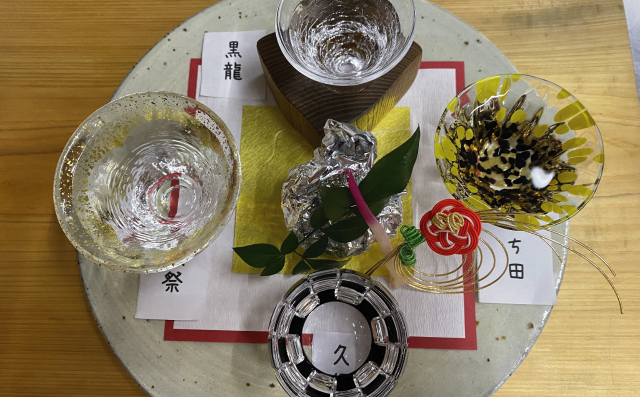 ◆Delicious anniversary◆, Irifune Monogatari PREMIUM
---
An anniversary plan with the following two benefits in the Irifune Monogatari Irifune standard plan"Irifune Monogatari".
Enjoy a delicious anniversary with creative cuisine dishes using plenty of homemade vegetables delivered by the chief chef.
We celebrate that an important anniversary such as a birthday or wedding anniversary will be a special day to be left in the mind.
【plan benefit】
○At dinner time, With half bottle of sparkling wine
※For reservations with more than 3 people, we will change to a full bottle.
○Anniversary with dessert plate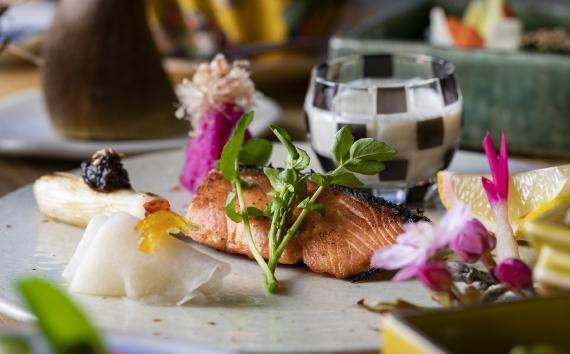 【Limited to Weekdays】1 Night/ Breakfast Included Plan
---
"Breakfast is the last hospitality of the inn"
Every morning the chief chef got up early and made it with consciousness.
A breakfast that sticks to homemade products as much as possible, such as homemade pickles and vegetable salads raised at home farms, will color the beginning of the customer's day.
Original, Creative Dishes
Creative cuisine made with vegetables of the own farms handled by the chief chef is also popular, non-agricultural vegetables of passion and variety of ingredients that makes producers' face can be seen as much as possible,
For example, rice is ordered from the family manager of the service manager.